How did the Program Start?
The Y-Indian Princess Organization for Fathers and Daughters was started at the Fresno California YMCA in 1954. It was started as an offshoot of the Y-Indian Guides program.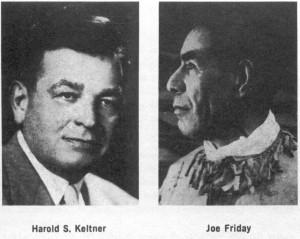 The Y-Indian Guides program was established in 1926 as a way to ensure that hard-working fathers stayed involved in their sons lives. The program was developed by Harold Keltner of the Saint Louis, Missouri YMCA, with the help of, and based on the example of his friend Joe Friday, an Ojibway Indian. According to Joe Friday, "The Indian father raises his son. He teaches his son to hunt, track, fish, walk softly and silently in the forest, know the meaning and purpose of life and all he must know, while the white man allows the mother to raise his son." These words struck a chord for Keltner, and he arranged for Joe Friday to work with him at the St. Louis YMCA." Keltner designed the father and son program based upon the strong qualities of American Indian culture and life–dignity, patience, endurance, spirituality, feeling for the earth and concern for the family.
After World War II, the rise in YMCAs that served the whole family, the need for supporting young girls in their personal growth, and the demonstrated success of the father–son program nurtured the development of other parent–child programs. A mother–daughter program, called Y-Indian Maidens, was established in South Bend, Indiana, in 1951. Three years later, father–daughter groups, called Y-Indian Princesses, emerged in the Fresno YMCA of California. In 1980, the national YMCA recognized the Y-Indian Braves Program for mothers and sons, thus completing the four programs and combinations that made up the Y-Indian Guide Programs.
Indian Princesses or Adventure Princesses?
Native Americans and other citizens expressed concern over program participants' adopting the Indian culture and teaching children about Native American life in ways they deemed inaccurate or stereotypical. The YMCA's commitment to being a caring, honest, respectful, and responsible organization; changing demographics resulting in diverse communities and diverse family structures; and an evolving cultural sensitivity and better understanding of Native American history all prompted YMCAs across the country to re-evaluate their parent–child programs.
Due to the concerns and a desire to provide the programs with a broader appeal, the YMCA Adventure Guides and Adventure Princesses were launched in the summer of 2003.
During this period, the KIPOO Nation converted to the KIPOO Expedition and became the Adventure Guides and Adventure Princesses.
Indian Princess and Adventure Princesses Comparison
Adventure Princesses Program Creation – Timeline
The Seminole Nation Indian Princess (http://seminolenation NULL.org/about NULL.shtml) organization has an excellent history section and details why they continue to use the Indian Princess name.